Artists
Du Jie
Du Jie's studio was a tiny room with a desk for painting and sutra chanting. She also had a bookcase to hold her works, pigments and books. The only thing hanging on the white wall was a fan with inscriptions from the critic Li Xianting. I wanted to know what the inscriptions were about. I thought it must be something very important. I sensed that she has an urge to paint. For her, painting was like writing. She kept making additions and revisions. She would not return all the things to the bookcase until she completed one piece. She was a very humble and grateful person. There was a strong sense of destiny and detachment in her.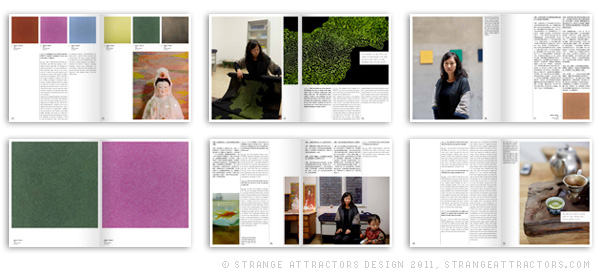 Wang Guangle
His studio was the last one of a row of identical buildings. One smaller room in his studio was filled with his works and lots of random things, that somehow do not look like they were just distracting toys. Everything here seemed to relate to his work. In a bigger room were his works including the 'Mirror cupboards' and the colorful 'Coffin painting' series. His works are about time. But he seems to be able to detach himself from emotional or psychological impact of things, such as the menacing symbol of death. He seemed to be a very happy person. In him you did not sense the kind of heaviness in his 'Coffin' or 'Terrazzo series'. Compared to other artists, he looked most Westernized. He was wearing a baseball hat, jeans, and a jacket with red stripes.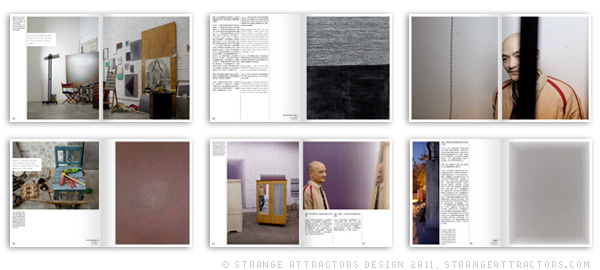 Shen Chen
I met Shen Chen in front of a 500-year-old Ming dynasty temple in Ditan Park north of the Forbidden City. The building has a beautiful red color. Shen Chen is a calm and friendly man whose eyes disclose his intelligence. He has very prominent glasses, big and round, that remind me of Qing Qing's glasses. He's dressed in grey pants and a waistcoat in a lighter shade of grey. However, that is not the reason I jokingly call him the 'Master of Layered Grey'. He puts down a painting against the wall of the temple and starts talking passionately about painting techniques and different shades of grey. His technique originates from the ancient Chinese ink tradition. "To me, black is a color'' he tells me. He doesn't mix his colors beforehand but mixes them on the canvas itself. With a thick brush he applies layer upon layer of diluted acrylic paint to the canvas, day after day, while listening to Bach. At places where the brushstrokes meet each other on the canvas, 'clouds' and different shades of colors appear. Shen Chen has been an abstract painter since 1982. He describes the first time he saw Pollock's work, the real work, in Shanghai in the early 80's. How stunned he was and that he had to cry because it moved him so much. He went to see the exhibition 4 times. Later exhibitions of German abstractionists and Russian artists followed. These exhibitions were very important to young artists like Shen Chen. It gave them fresh ideas. He says , "It opened our eyes to see what was going on in the world, what was going on in our own world." Almost 3 decades later, Shen Chen opened my eyes, and made me see what is going on in his world, and in my own.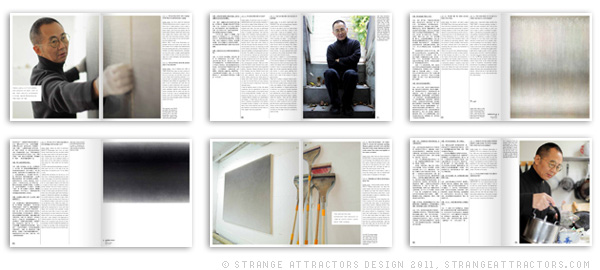 Xu Hongmin
Xu Hongmin is a very special person. He reminded me so much of my old friends with whom I repaired cars after school in front of their parents' houses. Perhaps I simply admired his sense of independence. His studio was surrounded by nature – I was not sure whether my observation was accurate because it was in Beijing. There was a big corn field in the backyard. He had dogs, cats, parrots and turtles. On a table, he placed over a dozen small Chinese tea pots and clay toys. All the things required a great deal of attention and care. I thought he was looking for new directions.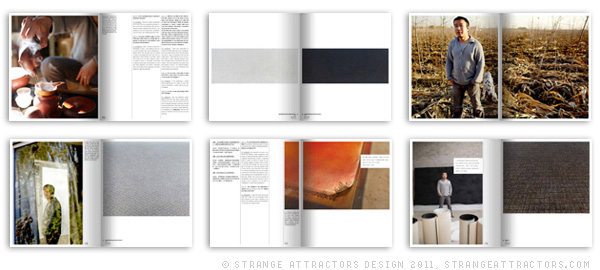 Ding Yi
His studio was in the art district at 50 Moganshan Road in Shanghai. It seemed that there were many other like-minded artists working there. The entrance had no sign, but it recalled a Chinese handicrafts factory. His studio served as a gallery where different kinds of works could be displayed and viewed. It was also a very practical work space. There was nothing loud or pretentious there. Ding Yi was working in the studio next door. Everything fit this space comfortably. The focal points of the room were 2 Art Deco sofas. Ding Yi was very friendly. He liked to talk about his art and had the ability to make it accessible to us. There was nothing obscure or mysterious about his work. What I learned is that he had an urge to paint this way, and he would not choose another way to do it. After hearing his ideas, I realized that his work might not be that abstract at all, and his works could be more concrete than some figurative works. This idea struck me again after I met and talked to other participating artists.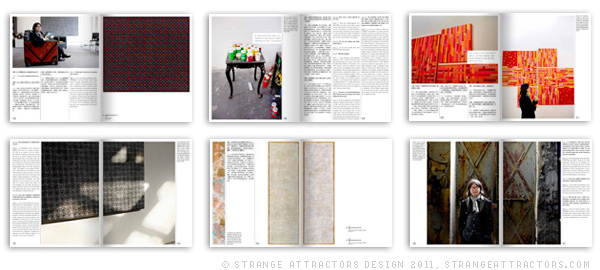 Zhou Yangming
A brand new studio was designed particularly for him. This sunny and spacious space seemed to provide some protection to his breathing. It was part of his work. Zhou Yangming's work method resembled meditation. Next to his easel is a table where he placed the tool for his pre-painting breathing exercises. He did a demonstration for us. His breathing exercises were not related to performance art or his painting techniques. But he made us realize that every element such as a straight line in his work embodies movement. Apparently he paid a great deal of attention to himself, and the things around him. He was a highly sensitive artist. Like a seismic monitor, his work is connected to his moods and feelings.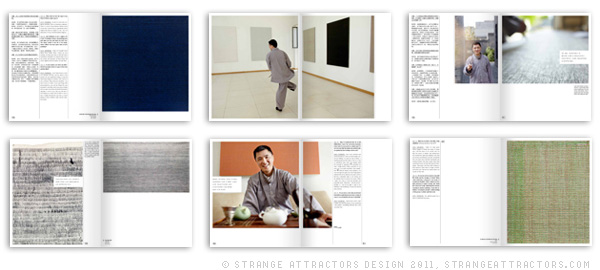 Chen Ruobing
After we came back to Germany, we interviewed Chen Ruobing who lives in Düsseldorf. I was very curious to know whether he was more German or more Chinese. I would say he was both. All things in his studio revolved around color. All the walls were painted white, and most furniture there revealed the natural color of the wood. It looked like a laboratory where you could study those nuances between colors. It was a very comfortable space. I felt the shapes in many of his works seem to rotate on the head of a potter's wheel. So I had this idea of inviting him to come to my studio. With the idea of rotation, I wanted to take a photograph of him against a grey background. The use of color is more his business.